Rana is a company that is specialized in keeping and breeding of dendrobates. In addition, we build terrariums for dendrobates, reptiles and other amphibians. This may be standard breeding and show terrariums but also custom-made terrariums to meet your wishes.
All terrariums are made in our own workshop, that"s why we can guarantee the best quality. Rana has also an extensive range of articles keeping these beautiful animals as optimally as possible. Think about lighting, heating, sprinkler systems, food animals and much more. Rana is also always looking for new products and ideas.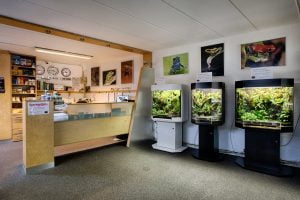 Rana breed many of the frogs presented and Rana also imports dendrobates and other frogs from Central and South America on a regular base. These shipments are made with great care treats, packaged and sent to make sure that nothing happens to animals on the road and that you only buy the best quality animals.
The company exists since 1994 and started from a hobby of owner Ruud Schouten, who loves and breed these beautiful animals since 1979. At this moment there are more than 200 terrariums with more than 40 varieties.
Our goal is to help you as easy as possible when selecting and purchasing the proper terrarium animals and materials. Please contact us or drop into our shop / showroom.